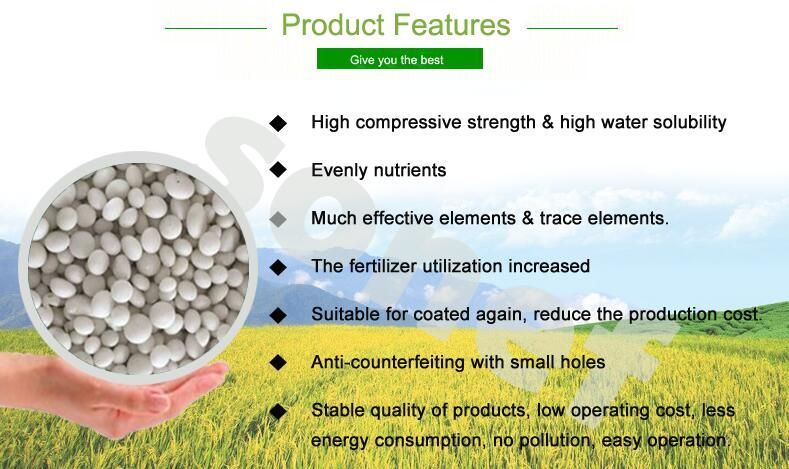 | | |
| --- | --- |
| | |
| Description | White or Blue Color |
| Specific Gravity | 0.9~1.1g/cm3 |
| PH | 6.0~7.2 |
| Particle Size | 2-4mm |
| | | |
| --- | --- | --- |
| Name | Unit | Value% |
| Nitrogen | N | 12 |
| Phosphorus (Available) | P2O5 | 11 |
| -Water-soluble P | | 8 |
| Potassium | K2O | 18 |
| magnesium | MgO | 2 |
| Hg | | Less than 2mg/KG |
| As | | Less than 15mg/KG |
| Cd | | Less than 3mg/KG |
| Pb | | Less than 50mg/KG |
| Cr | | Less than 150mg/KG |
Suitable Crops:
As a general use fertilizer, it can be applied to all kinds of vegetables and melons, and all kinds of fruit; tea, cotton, rice, Chinese Herbal Medicines, and so on.
1. Vegetables and Melons: peppers, cucumber, bitter gourd, beans, zucchini, eggplant, tomatoes, watermelon, pumpkin, etc.
2. Fruit categories: bananas, citrus, oranges, grapefruit, mulberry, etc.
3. Other categories: tea, corn, rice, cotton, ginseng, tapioca, Sugarcane, etc.
Other Information

Packing: 9.5,9.8 or 9.9kg PP woven bags, can be customized.

Shelf Life: 2Years (Not opened)

Storage: Cool and Dry place, not under sunshine, avoid high temp.& humidity

Caution: This product can be mixed with other fertilizer and normal non-basic insecticides.
NO

Type

Formular

Total Quantity of Elements

1






Balance

15-15-15

45

2

16-16-16

48

3

17-17-17

51

4

18-18-18

54

5

19-19-19

57

6

20-20-20

60

7




High K

12-11-18

41

8

12-12-17

41

9

15-5-20

40

10

15-5-25

45

11

15-8-20

43

12

15-9-20

44

13




Duck Shape

16-16-8

40

14

20-20-15

55

15

High P

11-19-15

45

16




High N

21-17-3

41

17

22-9-9

40

18

24-6-10

40

19

24-9-9

42

20

25-5-5

35

21

27-6-6

39

22

28-8-8

44

23

30-9-9

48

24

30-10-10

50

25




V Shape

18-8-18

44

26

18-9-18

45

27

19-9-19

47

Advantage

Can do special formula as you request.
Also can add other nutrition element according to your request
packing:

9.5kgs
stade:

granular
release type:

quick